SuperCharge Your Busy Life with LifeSource SuperSprouts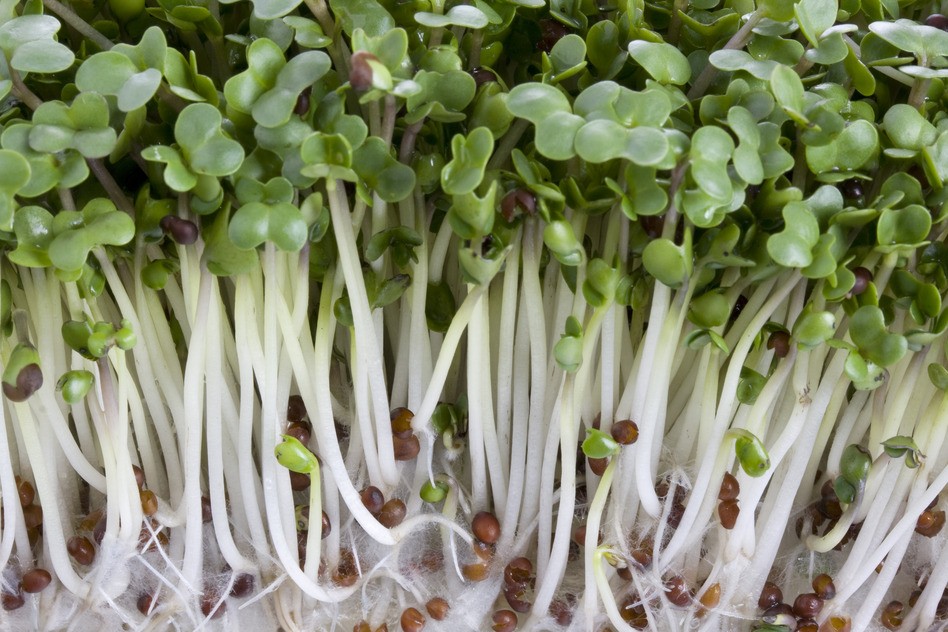 Micronutrient Convenience
Try as we may to fill our day with healthy choices, many times it's just too easy to skip a meal or reach for a less than nutritious snack. Even when eating a rainbow of fruits and vegetables it's still possible to be lacking in vital micronutrients that provide the antioxidants and other chemo-protective constituents that help to maintain optimal cellular health.
The good news is that LifeSource SuperSprouts is a convenient and easy way to add superfoods – and super nutrients – to your diet.
---
The SuperSprouts Convenient Healthy Choice
LifeSource SuperSprouts offers a great and convenient solution to easily supplement your diet and recharge your energy. It is available in two convenient forms: powder and vegetarian capsules. The powder mixes easily into a smoothie, juice, or water. Add it to your water bottle (BPA-free plastic or glass, of course!) when you're on the go. LifeSource SuperSprouts is a great supplement for people of all ages and has such a smooth pleasant taste even your children would enjoy.
Great for at home or eating out
Easy to stock in your pantry
Bring with you in your purse or gym bag
Add to a smoothie (great in Almased protein powder)
Sprinkle in your children's juice
Mixes easily in your water bottle
A great between-meal boost
Perfect in the morning or just before bedtime
Great for weight management and for curbing food cravings
---
What Does Nourished Mean?
A superfood contains nutrients that the body requires for optimal cellular health. Those who do not consume a variety of green foods in plentiful quantities may lack chlorophyll in their diets. Therefore, taking a high quality sprouted grain/seed and green food supplement that contains chlorophyll can help you get this important nutrient, as well as others, into your diet or cleansing program.
Research suggests the benefits from superfoods may:
Support most bodily functions*
Boosts energy levels*
Increase stamina and endurance*
Reduce recovery time from physical activity*
Improve mental clarity and alertness
Help with detoxification processes*
Help the body heal faster*
Support a healthy inflammation response*
Build healthy red blood cells*
Provides phytochemicals and antioxidants*
Improve immune health*
---
LifeSource SuperSprouts Profile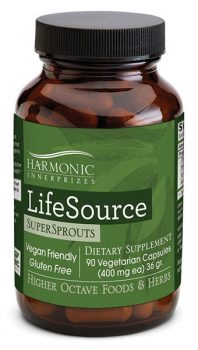 Quite simply, LifeSource SuperSprouts from Harmonic Innerprizes is a highly nutritious, great tasting superfood product. It's packed solid with nutrient dense ingredients and life enhancing phytochemicals to promote longevity and healthy aging. It provides 36% greater life-force energy than any comparable product.*
LifeSource SuperSprouts is created from 100% organic sprouts and the highest quality Superfoods. The organic sprout complex consists of Amaranth, Quinoa, Black Chia, Golden Flax, and Broccoli. These sprouts are in a Superfood base of Chlorella, Organic Spirulina, Organic Barley Juice (33:1 Concentrate), Wildcrafted Hydrilla, Phaeophyta Kelp, and Stevia.
LifeSource SuperSprouts Formula Provides These Benefits:
Gluten Free – 100% Vegetarian – Vegan Friendly LifeSource SuperSprouts is now gluten free and combines the most powerful superfoods with organic sprouts. Sprouts provide the life force energy that gives birth to the entire plant kingdom. A seed provides the spark that bursts new life to a new plant. These 100% vegan friendly micro-nutrients provide antioxidants and other chemo-protective constituents that help to maintain optimal cellular health. You can read more about these nutrient dense foods in our article The Benefits of SuperFoods.
Excellent Vegetable Sources of Omega 3s
There are many health benefits of Omega-3 fatty acids. Research suggests strong evidence that Omega-3s boost heart health, aide the body's immune system, increase metabolism, promote healthy weight, promote lean muscle mass, improves brain health and play an important role in reducing inflammation throughout the body, including joints. LifeSource SuperSprouts is now formulated with Black Chia and Golden Flax which have been shown to be some of the best vegetable sources of Omega-3s.
Increased Antioxidant Activity
Lifesource SuperSprouts has always provided great antioxidant activity. This formula includes sprouted Black Chia seeds, which are a powerful source of Phenolic antioxidants which work to protect cell health. Cells are protected because phenolic antioxidants guard against cell deterioration or DNA damage or mutations.
Pharmaceutical Grade Chlorella
In LifeSource SuperSprouts, Harmonic Innerprizes combine organic Spirulina with the purest and most powerful Chlorella in the world. Their pharmaceutical grade chlorella is grown under laboratory conditions in hermetically sealed tanks. This chlorella is pure and powerful, and is one of the foundations of the LifeSource SuperSprouts formulation. It is the soft-cell species regularis, so the heavy metal chelating properties of which Chlorella is most renowned for are at its highest potential.
SuperCharging Makes Sense With SuperSprouts
             LifeSource SuperSprouts is a convenient and cost effective way to add vital superfoods to your diet and to gain the life force energy you need each day. In today's fast-paced world of long workdays, physical and emotional demands, exposure to toxins, special health needs or just simply doing life, finding a way to SuperCharge your health and wellbeing is vital. LifeSource SuperSprouts is a perfect answer to getting you to where you want to be.     
---
Tags :
barley juice
black chia
chlorella
energy
golden flax
hydrilla
kelp
LifeSource SuperSprouts
mental clarity and alertness
omega-3
spirulina
sprouted broccoli
sprouted seeds
stamina