Why We Love the Enzymedica Brand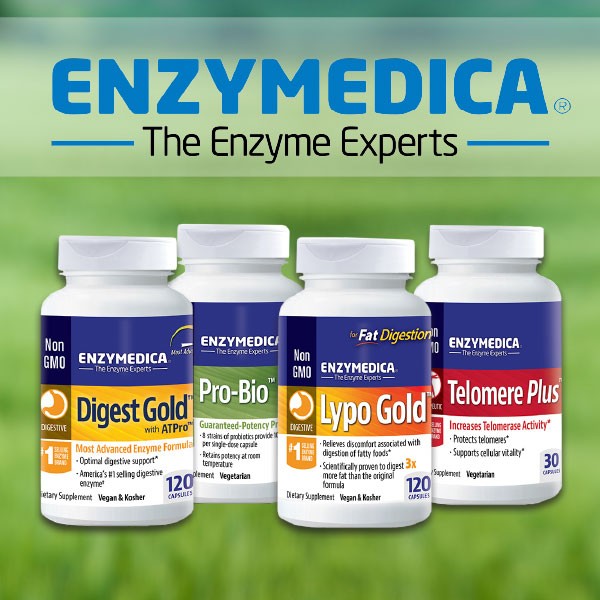 Enzymedica – The Enzyme Experts
There are many reasons why we love Enzymedica, the #1 selling enzyme brand in the U.S. They have an outstanding line up of digestive enzymes, supplements for food intolerances, and therapeutic enzyme support.
Their products have won several awards, including the 2016 Vity Awards and Better Nutrition Best of Supplements 2016. Founded in 1998 with the purpose of providing high-potency enzymes while educating their customers, Enzymedica believes enzymes are a crucial part of overall health.
Each product is specifically formulated to provide targeted support for common digestive discomforts, food intolerance, cardiovascular health, proper immune function or healthy inflammatory responses. With these issues becoming more prevalent in today's society, we want to offer the best variety of supplements to meet even the most specific enzyme needs. And the Enzymedica brand of products does just that.
All of Enzymedica's products are made from only the highest quality enzymes and contain absolutely no fillers to ensure purity. Every product is 100% vegetarian and non-GMO, and they seek out vegan and Kosher ingredients whenever possible.
They use an exclusive Thera-blend™ process which ensures enzyme efficiency in all areas of the digestive tract and throughout the body. Thera-blend targets the whole GI tract, which means it's active throughout the entire digestive process.
By combining multiple strains of enzymes that have a different optimal pH range, blends achieve greater activity over a broader pH range. Lab tests show Enzymedica Thera-blend enzymes are 3X Stronger and work more than 6X Faster than leading digestive supplements. * ~Enzymedica Thera-Blend Page
---
Enzymedica – Popular Products
All Enzymedica products are:
100% Vegetarian
Vegan and Kosher when possible
Free of fillers
Gluten-Free
Dairy-Free
Soy-Free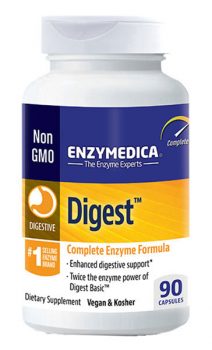 DIGEST
Digest complete enzyme formula contains a highly potent enzyme blend which supports digestion and helps the body absorb nutrients.* Includes enzymes that break down carbohydrates, fats, fiber, and protein.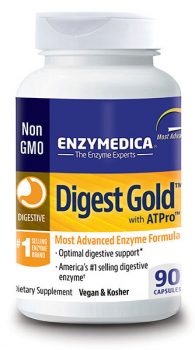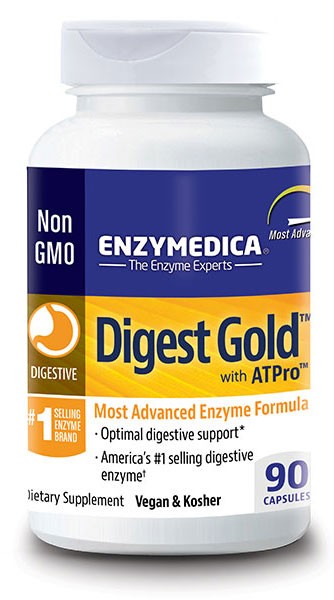 DIGEST GOLD
Digest Gold is the most advanced enzyme formula offered by Enzymedica. It contains ATPro, a combination of adenosine triphosphate (ATP), magnesium citrate, alpha lipoic acid, and CoQ10 to support complete digestion and cell penetration.*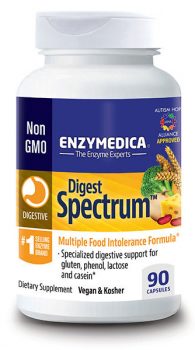 DIGEST SPECTRUM
Digest Spectrum formula contains a unique combination of high-potency enzymes which offer support for those with intolerance to foods containing gluten, dairy, phenols, vegetables and beans.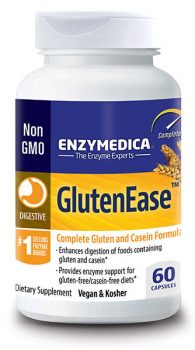 GLUTENEASE
GlutenEase provides specific enzyme requirements of those with gluten intolerance. It contains Protease Thera-blend™ (G1), DPP-IV and starch-digesting amylase. Not intended to replace a gluten-free diet for individuals with Celiac Disease.*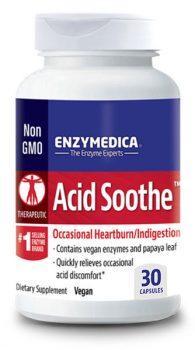 ACID SOOTHE
AcidSoothe contains digestive enzymes, papaya leaf, marshmallow root, and more to support optimal digestion. Thera-blend enzymes also promote proper pH balance to support and improve overall digestive comfort.*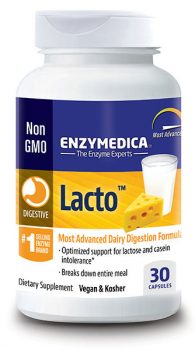 LACTO
Lacto is the most advanced dairy digestion formula* containing lactase and eight additional enzymes that work together to digest dairy, sugars, proteins and fats. Complete digestive support for an entire meal.*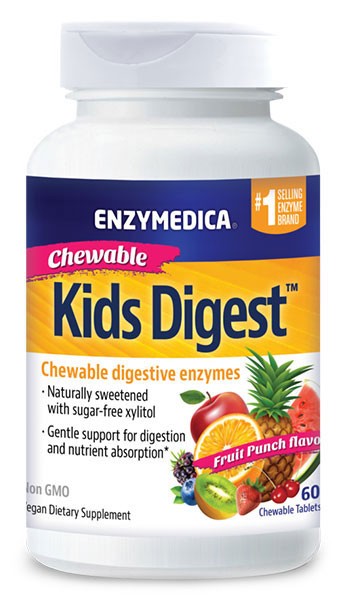 KIDS DIGEST
Kids Digest provides digestive enzymes that help the body break down the components of a meal, like fats, fibers, protein and carbohydrates.* Enzymes are crucial for nutrients absorption, and can also reduce occasional gas, bloating and indigestion from eating problem foods.*
PURIFY LINE
The Purify line of products from Enzymedica offer a "whole-body" approach to natural cleansing and detoxification. With comprehensive formulas which include an enzyme blend, probiotic blend, mixed ascorbates with MSM, Cruciferous Detox Blend, as well as supplements to support liver function and regularity.*
Purify Complete Body 10-Day Cleanse Kit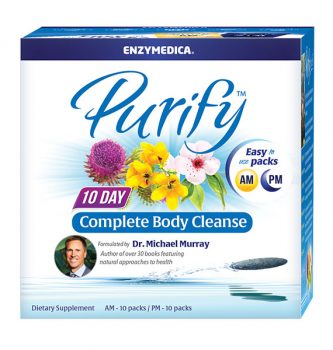 Purify™ Complete Body Cleanse offers an advanced, "whole body" approach to natural cleansing and detoxification. Easy to use morning and evening packets eliminate unnecessary complexity and contain all the capsules needed for an ideal 10-day cleanse.*
AM Packet
Purify™ Enzyme Blend
Liver Detox Formula
Organic Detox Veggie Blend
Purify™ Daily Regularity
PM Packet
Purify™ Enzyme Blend
Mixed Ascorbates with MSM
Purify Probiotic Blend
Purify Daily Regularity
Purify Coconut Charcoal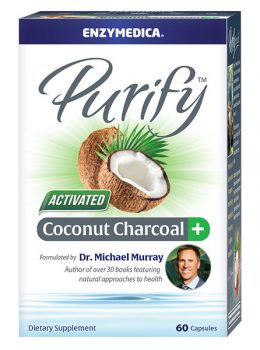 Purify Coconut Charcoal assists the body's natural detoxification process by helping to both capture and eliminate unwanted toxins and other material.*
Purify Daily Regularity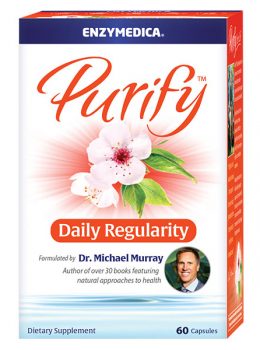 Purify Daily Regularity is an advanced, non-stimulant, formula that provides gentle and effective support for occasional constipation.*
Purify Fiber Drink+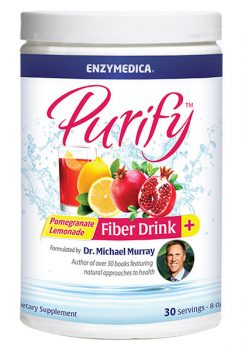 Purify Fiber Drink+ is a gentle formula that provides four premium sources of fiber to assist the body's natural digestion, regularity and detoxification processes.*
Purify Liver Detox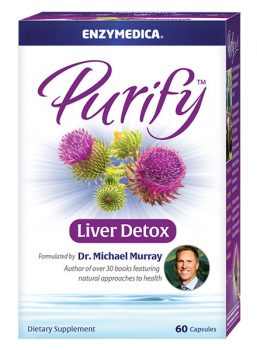 Purify Liver Detox offers unparalleled support for liver detoxification and function, plus complementary ingredients for support of all stages of detoxification.*
Enzyme Nutrition MULTI-VITAMINS
100% whole food multi-vitamins + activated enzymes + probiotics equal naturally occurring beneficial factors that support optimal assimilation of vitamins, minerals and superfoods.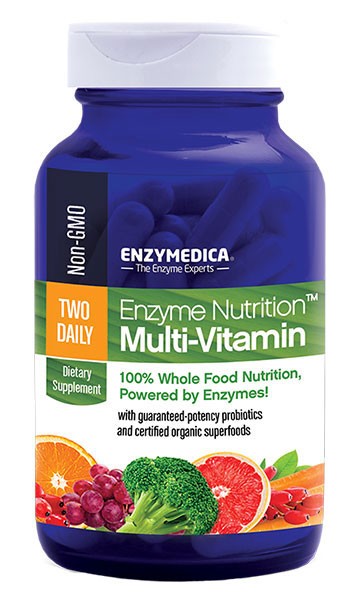 Enzyme Nutrition Multi-Vitamin Two Daily offers whole-food nutrition for adults and children age 14 and over. In addition to standard vitamins and minerals, it also includes an effective blend of  Thera-blend digestive enzymes, nutrient-rich superfoods, ATP, and probiotics. Also available in Men's, Women's, and Women's 50+.
---